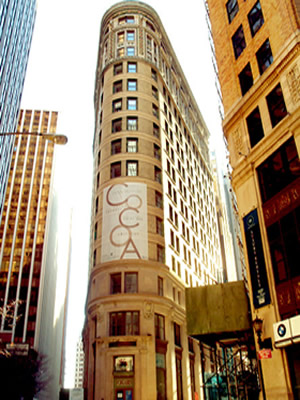 Welcome to the Cocoa Exchange Website
If you are a Homeowner or Resident of the Cocoa Exchange and visiting this site for the first time, you must register and sign in to access the resident services section and take advantage of the resident classifieds.
About Cocoa Exchange
The Cocoa Exchange at 1 Wall Street Court is a full-service pre-war condominium offering luxury apartments for sale in the Financial District of Manhattan. This historical building has been landmarked due to its neo-Renaissance style and it being leading example of turn-of-the-century skyscrapers. While today it houses 126 apartments, 1 Wall Street Court was once home the New York Cocoa Exchange from 1931 to 1972
The Cocoa Exchange is located at 1 Wall Street Court where Beaver and Pearl Street intersect just south of Wall Street, giving it a distinctive flat-iron shape. Inside, residents are welcomed by a doorman into a lobby boasting rosewood, chiseled marble, venetian plaster and an aluminum leaf ceiling. Apartments at range from studio to two-bedroom, with a large variety of unique layouts and detailed craftsmanship
Aside from the full-service doorman, residents at 1 Wall Street Court have access to a relaxing glass-wall lounge with a bar and flat screen TV, and the rooftop terrace with city views. The Cocoa Exchange is only a few blocks from the East River and has access to all the extensive shopping, dining and nightlife options of the Financial District.